Press Page
CURRENT RELEASE
Title: You Must Relax

CatNo.: EOM088 (CD), EOM88V (2LP)
Release Date: 22 February 2019
Formats: LP, CD, Digital
Playing Time: 54:16
Barcode LP: 811521019880

Barcode CD: 811521010887

ALBUM STREAM:
Hollywood 2001/ Rollrost

Bellrope

3:35

Old Overholt

Bellrope

9:58

You Must Relax

Bellrope

11:22

TD200

Bellrope

11:28

CBD/ Hereinunder

Bellrope

17:56
ARTIST INFO
English:
From the filthy and soaked ashes of BLACK SHAPE OF NEXUS arise BELLROPE, a band who dub themselves as the total absence of tonal sanity. Their actions are described as 'Amp hauling. Amp abusing'. A description or biography could well end here and still cover enough you need to know about the band. In fact, to sublimate a band like BELLROPE with any kind of knowledge means steering into the wrong direction. BELLROPE are an experience. In utter contradiction to your usual heavy rock bands with an esoteric twist and the, ha, well so common (non)sense of interweaving ritualistic riff-mongery with some heritage-purveying focus to ancient rites, rituals and ideologies, BELLROPE are a hurricane of fresh air, well needed and even more welcome. There will be no antlers, mandalas, fur or badly drawn symbols on stage when they are coming after you. BELLROPE don't need to charge their sonic urgency with ideology. And, yes that's what their sound is: sheer unbearable urgency – riffs, born from massive heaviness, thrown from membranes in repetitive manner and pumped out in trifle-less volume. If volume ever was a political statement it finds its perfect illustration here. BELLROPE know no boundaries, not in their way of creating tonal abuse of their speaker cabinets and certainly not of your eardrums. Consisting of two basses, one guitar and drums they underline their quest for finding the ultimate monstrosity in sound.
Raised on Doom, Noise and Punk with a crusty edge BELLROPE still remain far from what you usually expect from a band riding ritualistic riffery. Political responsibility comes with their sounds and clear statements are embedded within. Hailing from suburbian areas in Southern Germany BELLROPE have earned merits with their predecessor band BLACK SHAPE OF NEXUS throughout the international D.I.Y./ squat scene always vocal about their support for and origin from the underground. Being true about their music the goal was never 'making it' but keeping the emotional approach intact with limiting their touring activities always to just a few shows to keep the energy fresh.
BELLROPE drive forth this attitude and give it a welcome update: 'You Must Relax' is BELLROPE's first album, spanning 5 songs over four sides of a double record. Starting off with a somewhat massage of your eardrums to make you ready for the following, like some good orange habanero slices stimulate the synapses of your tongue to make the main dishes taste so much more intense. This main dish will be served in the tonal equivalent of the track 'Old Overholt' paying tribute to the iconic rye whiskey which is a regular acolyte in the BELLROPE touring van. The call-out 'You Must Relax' is a verbatim order, before 'TD 200' marks another climax, carried by dueling vocals by Arne Heesch and Yvonnne Ducksworth of the mighty TREEDEON. 'CBD/ Hereinunder' wraps it up with long repetitive trance-inducing riffage that you just plainly don't want to end. Ever. So watch out for them in your local youth center more than in your corporate rock club with a stage filled with amps and cabinets, front row soaked in sheer monolithic volume. Come closer, you'll be sucked in anyway.
Deutsch:
Nachdem die feucht-modrige Asche von BLACK SHAPE OF NEXUS durch den Rollrost gerieselt war, wurde es Zeit, aus den vergammelten Überresten eine neue Band zu formen: BELLROPE. In konsequenter Absage an jede tonale Vernunft beschreibt die Band ihre Handlungen als 'Verstärker schleppen, Verstärker missbrauchen'. Und damit ist eigentlich alles gesagt, was man über diese Band wissen muss und eine Biografie oder Info könnte genau hier enden. Man muss nicht mehr wissen über diese Band. BELLROPE sind eine Erfahrung. Aber auch ein Statement – und da lohnen Worte dann doch wieder: In einer Zeit, in der gerade dunkle und mächtige Sounds mit ritualistisch-repetitivem Wumms mit Esoterik verbrämt werden und unter dem Deckmantel einer Art Heritage-Bewahrung mit konservativ-anachronistischer Symbolik aufgeladen werden, sind BELLROPE ein Orkan voll frischer Luft. Auf ihren Konzerten wirst du keine Geweihe, Pelzmäntel, Trinkhörner, Lederhosen oder bedeutungsvolle Symboliken finden. BELLROPE haben nicht nötig, die eine Esoterik durch eine andere zu ersetzen. Es geht hier einzig, allein und bedingungslos um Lautstärke. Und wenn Lautstärke ein politisches Statement ist, dann erfährt es hier seine bisher beste Illustration. BELLROPE kennen keine Grenzen, nicht in der Massage ihrer Lautsprechermembranen und damit natürlich auch nicht in der Bearbeitung deines Trommelfells. Und somit sind Bellrope auch eine Herausforderung: kannst du der tonalen Wucht standhalten? Bist du bereit, dich auf eine Band einzulassen, die dir die Interpretation eben nicht gleich schön vorgekaut und verzehrfertig mitliefert? Dann checkst du am besten mal die Flyer des nächsten Underground-Clubs in deiner Gegend, weil du die Band dort eher finden wirst als in einem kommerziellen Rockclub.
Aufgewachsen im Morast aus Doom, Noise und Crust Punk, sind BELLROPE die Nachfolger von BLACK SHAPE OF NEXUS, deren kompromisslose Herangehensweise an Klangerzeugung und im Tagesgeschäft sie weitertragen – tief verwurzelt in der DIY-Szene und den alternativen Zentren dieser Welt verweigern sich BELLROPE jeder Redundanz. Dabei gehen sie so weit, dass sie Konzertreisen nie über länger als 4 Tage ausdehnen um nicht der Gefahr von Routine Vorschub zu leisten. Es geht nicht darum, die eigene Geschichte mit maximaler Sichtbarkeit zu verdeln, sondern es zählt allein der Moment und seine maximale Intensität. Auf UND vor der Bühne.
"You Must Relax" ist BELLROPEs erstes Album und vereint 5 Songs auf vier LP-Seiten. Den Anfang bildet "Hollywood 2001/Rollrost", eine Kampfansage an tradierte (Ge-)hörgewohnheiten, das die Sinne schärft und in etwa so wirkt wie ein paar orange Habanero-Scheiben auf deiner Zunge, die Synapsen so stimulieren, dass das Hauptgericht seinen Geschmack in maximaler Intensität überhaupt entfalten kann. Und genau das passiert dann auch im folgenden Song: "Old Overholt" ist eine Hommage an den legendären gleichnamigen Rye Whiskey, der zur Standardausstattung im Tourbus der Band gehört. Das folgende "You Must Relax" ist genau das: eine wortwörtlich zu nehmende  Aufforderung. In "TD 200" duellieren sich dann als Gastsänger Yvonne Ducksworth und Arne Heesch der Labelmates TREEDEON, die nicht nur musikalisch Geschwister im Geiste für BELLROPE sind. "CBD/ Hereinunder" beschließt die Platte dann mit einem repetitiven Riff, das dich ganz langsam in Trance befördert und das in einer gerechten Welt niemals enden würde.
Und genau im Sinne der Gerechtigkeit bleibt uns nur noch zu sagen: die Welt hat diese Band verdient. Und zwar in jeder Beziehung.
ARTIST PICTURES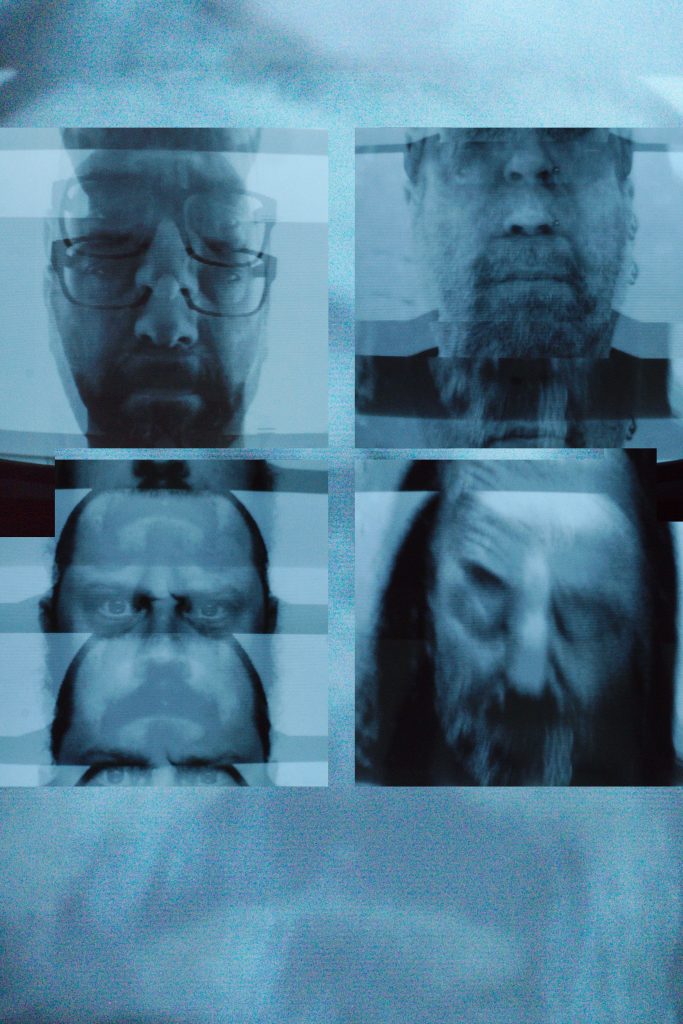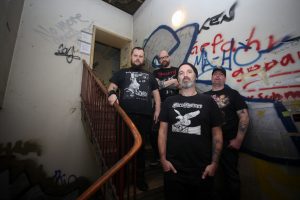 MISC.