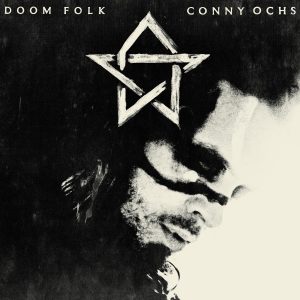 CURRENT RELEASE
Title: Doom Folk
CatNo.: EOM087 (CD), EOM87V (LP)
Release Date: 15 February 2019
Formats: LP, CD, Digital
Playing Time: 38:15
Barcode LP: 811521019873

Barcode CD: 811521010870
RELEASE INFOs:
English:
Music to touch your soul quite relies on one essential: changing your perspective, opening up a different view on the world than the one you might have cultivated in your life so far. And the best stories are always the ones that no one told yet.
Conny Ochs envisions the signs, concealed and hidden to others, he is able to read the world much more detailed and in higher density. The results of his observation he channels into narratives driven by fervour and vulnerability. The new album "Doom Folk" walks new tracks but sometimes they are just running parallel to the old paths.
Conny is touring since years as some kind of rock'n'roll vagabond throughout the land and countries, traveling from one show to another, playing the urban prairie as well as rural downtowns. He's a solo artist, mostly on his own but never lonesome. Witnesses of his journey are the albums "Raw Love Songs" (2011), "Black Happy" (2013) and "Future Fables" (2016), illustrating the evolution from a Blues/Folk-infused troubadour to the iconic singer/songwriter he is nowadays. While his early days circulated around the cliché of the lonesome rider, armed with a rugged dreadnaught guitar and a harp and the musical expression being bound to these limitations the most recent album "Future Fables" already shed light on the direction he is now walking in a firm tread. "Doom Folk" closes a bracket around its three predecessors as well as the two records Conny Ochs recorded with Scott "Wino" Weinrich ("Heavy Kingdom", 2012 and "Freedom Conspiracy", 2015), which were also driven by a stripped-down, almost naked attitude in musicality. While the inspiration is still clearly apparent on "Doom Folk", something feels new, fresh and diverse. Let's make no mistake, the record is still a Conny Ochs album, coming from dark and melancholic dreams, wrapped in songwriting full of urgency and bittersweetness. There is the rhythmically prancing bijou "Moon" about the back and forths of love, the doughty "New Ruins" and "King Of The Dead" adressing inner weakness and faint.
But it doesn't end there. Conny opens his sounds and skills up to a wider instrumentation: bass, drums, percussion and organs find their way into the sound, adding tonal urgency, distortion and volume to "Doom Folk". The opener "Dark Tower" comes across like an ignition. The track pays tribute to the tragic death of Chris Cornell. "Hammer To Fit" cultivates a booming organ, giving his trademark sound a new level of hope and optimism while the guitar shimmers in engaging clarity across the tundra, paying reminiscences to stalwarts like Howe Gelb or Rainer Ptacek.
Of course, "Doom Folk" presents a Country track as almost obligatory effort: "Gun In The Cradle" is an eclectic sculpture of American songwriting, uncompromising, yet undisputable. And then there is "Drunken Monkey", which is, arguably a perfect pop song. Counterbalancing the shiny brightness on these songs darkness cuts through in "Waiting For The Pain", an anthem-like dive into pain and foremost in "All Too Bright", a shadowy blues track which brings in parallels to the morbid prurience of some Nick Cave. Thoughts and emotions steer into manic stages in the Gospel-driven Rocker "Crawling".
And so, "Doom Folk" fans out the authenticity of Conny Ochs in more diversity than ever before. Melancholy and insanity, attrition and hope – nestled in a loud/quiet dichotomy, carried forward by clean, and pure tones until the same erupting in a distortion and dissonance created by driving an old fashioned amplifier tube into saturation.
DEUTSCH:
Dass Musik gut ist, wenn sie berührt, ist eine Binsenweisheit. Aber was braucht Musik, damit sie uns berührt? Vor allem einen anderen Blickwinkel auf die Welt als unseren – die beste Geschichte ist die, die noch niemand erzählt hat.
Conny Ochs liest die Welt intensiv und sieht Zeichen, die anderen verborgen bleiben. In seinen Songs erzählt er davon, mit Inbrunst, Verve und Verletzlichkeit. Das neue Album "Doom Folk" geht neue Wege, zuweilen aber auch parallel neben den alten Pfaden.
Seit Jahren tourt Conny Ochs als Rock´n 'Roll-Vagabund durch die Lande, von Konzert zu Konzert, meist solo, aber nie allein.  Zeugen dieser Wanderung sind seine Alben "Raw Love Songs" (2011), "Black Happy" (2013) und "Future Fables" (2016): Reduziert aufs Wesentliche, auf eine Westerngitarre und eine mal flehende, mal fordernde, mal hoffende, mal bedauernde, jederzeit aber unverblümt ehrliche Stimme zelebriert Ochs seinen Blues-infizierten Landstraßen-Folk und ließ sich dabei nur selten von einer zweiten Stimme oder scheuen Percussions ein kurzes Stück begleiten. Auch auf seinen zwei vielbeachteten Alben zusammen mit Doom-Legende Scott "Wino" Weinrich ("Heavy Kingdom", 2012 und "Freedom Conspiracy", 2015), vertonten im wesentlichen nackte Gitarren und pure Vocals große Gefühle.
Nun meldet sich Ochs mit neuem Material zurück und schlägt dabei überraschend neue Wege ein. Damit wir uns richtig verstehen: Auch "Doom Folk" ist ein Conny Ochs-Album durch und durch, voll dunkler Träumereien und eindringlicher Melancholie. Es finden sich gewohnt bittersüße Singer-Songwriter-Lamenti wie das bedauernd tänzelnde "Moon" über das Hin und Her einer Liebe, das tapfer vorwärts blickende "New Ruins" oder das eigene Schwächen thematisierende "King of the Dead" ("They call me king of the dead / 'cause I have a hard time with the living") allesamt wunderbar eindringliche Folk-Perlen.
Doch dieses Mal ist da noch mehr: Mehr Instrumentierung durch Drums, Bass, Orgeln, mehr Verzerrung und damit mehr Möglichkeiten: der fesselnde Opener "Dark Tower" beispielsweise, eine tonale ebenso wie inhaltliche Hommage an den viel zu früh gestorbenen Chris Cornell. In "Hammer To Fit" wummern die Orgeln fast zuversichtlich, ja optimistisch, während die Gitarren an die flirrenden Wüstensounds der Tucson-Szene erinnern. Der auf Ochs-Platten mittlerweile obligatorische Country-Song kommt dieses Mal noch deutlicher, noch kompromissloser daher: "Gun In The Cradle" ist auf angenehm unprätentiose Weise uramerikanisch. Und "Drunken Monkey" tänzelt cool um einen verzuckerten Refrain, der lupenreiner Pop ist.
Auf der anderen Seite, quasi als Kontrast zu diesen lichten Momenten, stehen dunkel brodelnde Songs aus schlaflosen Nächten wie das im Schmerz badende "Waiting For The Pain", oder das erschöpft delirierende "All Too Bright", die mit ihrem schattigen Blues Folk an den Meister der morbiden Laszivität Nick Cave oder auch ein wenig an Bowie erinnern. Und wenn dann die Gedanken und Emotionen wie Fieberträume im Gospel-Rocker "Crawling" regelrecht manisch werden, verschmelzen Lust und Schmerz.
Und so fächert "Doom Folk" die unbedingte Authentizität von Conny Ochs abwechslungsreicher auf als je zuvor: Melancholie und Wahnsinn, Zermürbung und Hoffnung, eingebettet in das Spiel aus Laut und Leise, mal getragen vom reinen, angenehmen Ton um dann wieder in der Dissonanz, den eine in die Sättigung gefahrene Verstärkerröhre intoniert, aufgelöst zu werden.
ARTIST PICTURES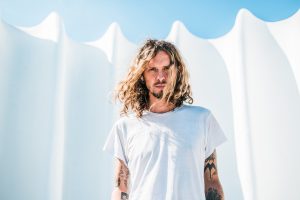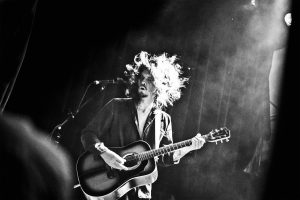 exclusive pictures (available on request – please send e-mail!)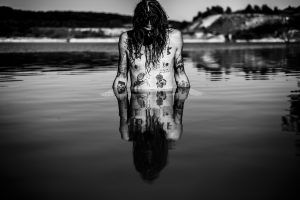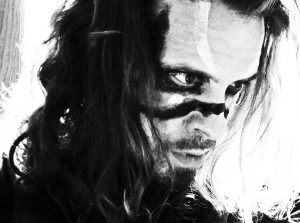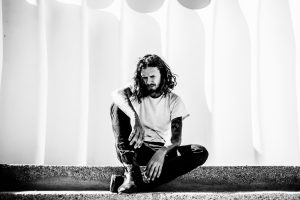 PRESS QUOTES (selection)
EXILE ON MAINSTREAM's FAVOURITE REVIEW:
So used to seeing Conny Ochs alongside Scott Weinrich, it's easy to forget that Ochs already has two albums all his own. Third addition to this, 'Future Fables' further proves that the German singer/songwriter doesn't need the St. Vitus frontman by his side to make a deep musical impact. Despite the clean vocals and use of acoustics opposed to multiple amps and fuzz pedals, 'Future Fables' possesses the ability to speak to music fans even if their typical listening repertoire only consists of bands with 'bong' or 'wizard' in the title. It's a journey of pain, regret and soul searching and, no matter your current life situation; there will be at least one track you find yourself able to relate to. (read in full at: AVE NOCTUM)
ENGLISH:
In fact this is a reasonably positive collection, so although there are distinct nods to Nick Drake and Townes Van Zandt, there's a definitve dichotomy at work here. Musically, Ochs suggests melancholy, but there are distinct kernels of hope (ROCK-A-ROLLA 2016)
There's a tendency for many to underestimate those artists who choose to 'strip back' as lacking complexity. Conny Ochs' latest offering, Future Fables, is certainly stripped back, but it definitely isn't simple. Full of rich, emotional depths, solid songwriting and nods to its varied influences, it's accessible for casual listeners, but considerably more rewarding for repeated spins. (read in full at: THE SLEEPING SHAMAN)
This record has the potential to speak to many of us heavy rock fans despite its level of sentiment and sparse use of instrumentation. There's passion and well-placed emotion that resonates through these songs. They're deliciously fragile because of it. If that's your thing; if you can appreciate singers baring their soul with nothing more than an acoustic guitar as accompaniment, then this one's for you. (read in full at: THE SLUDGELORD)

This record stands as a testament to the versatility of musicians with Ochs showing that he can make good and interesting music over multiple genres and stylings. Future Fables is powered by many different but equally cool guitar riffs that hold up not only as individual songs, but also as a cohesive whole record. (read in full at: MXDWN)
DEUTSCH:
Conny Ochs' Musik lässt sich nicht in eventuell erreichten oder verfehlten Superlativen messen, denn Mensch und Klang sind bei ihm eins, letzteres quasi die Verlängerungen des Selbst als Ausdruck der eigenen Persönlichkeit. Vor diesem Hintergrund gereicht ihm "Future Fables", ein nachdenkliches Werk, zur Ehre und endgültig zu einem sicheren Platz in der hohen Riege der großen Einzelkämpfer mit Klampfe, die man glatt für verständige Freunde halten könnte, obwohl man sie überhaupt nicht persönlich kennt. (vollständig lesen: MUSIKREVIEWS.DE)

In der Tradition alter Helden wie Townes Van Zandt oder Nick Drake sind die Stücke beseelt von der rastlosen Suche nach Liebe, Läuterung und dem Streben das flammende Herz in einer kalten Welt am lodern zu erhalten. (vollständig lesen: ECHTE-LEUTE.DE)
Der Songwriter Conny Ochs wirft sich in seine Lieder, als wären es seine letzten. E-Gitarre links, Akustikgitarre rechts, ein bisschen Perkussion und Backing Vocals – mehr braucht Ochs nicht für eine sehr emotionale, unmittelbar berührende Platte. (ROLLING STONE GERMANY 2012)

…bescheiden, aber epochal (VICE GERMANY 2012)
Den großen Namen trägt der eigenwillige Neo-Folkie Conny Ochs ja gewiss nur zufällig. Aber wie der Mann, der am ehesten durch seine Kollaborationen mit 'Wino' bekannt sein dürfte, den Geist des rastlosen Troubadours in die Jetztzeit hievt und damit durchaus an die Traditionen des großen Phil Ochs erinnert, ist faszinierend. (WESTZEIT 2012)
Der Musiker macht sich deswegen so unverzichtbar, weil es nur wenige seiner Art gibt. 'Black Happy' ist ein Hort voller Stilleben, die trotz oder gerade wegen ihrer sparsamen Inszenierung große Gesten bereithalten. […] Ein Album wie 'Black Happy' ist umso wichtiger, als es uns zeigt, dass eine Rückkehr zu den Ursprüngen nicht immer unbedingt 'retro' klingen muss. (ECLIPSED 2012)
ARTIST DISCOGRAPHY
MISC.
Conny Ochs website: www.connyochs.com
Conny Ochs art: www.ochsworks.com
Conny Ochs on Facebook: www.facebook.com/connyochsmusic
Conny Ochs on Youtube: www.youtube.com/channel/UCcNCsFsYhcZF0bCsp8_A-Og
Tourdates HERE