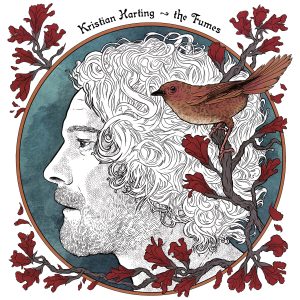 CURRENT RELEASE
Title: The Fumes

CatNo.: EOM93V (LP + CD Bundle)
Release Date: 24 January 2020
Formats: LP (w/ bundled CD)

Playing Time: 33:27

Barcode LP: 811521019934

ALBUM DOWNLOAD:
Download the record in mp3 format for promotional use only HERE
If you don't have a download code, request it HERE.
ARTIST INFO/BIO
Deutsch:
Bereits Anfang der 90er Jahre begann Kristian Harting in Thrash Metal Bands wie u.a. Avoid zu spielen, die auf dem mittlerweile legendären Sampler 'Fuck You, We're From Denmark' vertreten waren. Gegen Ende der 90er Jahre spielte er in verschiedenen Noise Pop Bands, wie u.a Dr. Berg und arbeitete mit Musikern wie Jacob Krogholt (Rising, Bjoerst, Withering Surface), Mick Grondahl (Jeff Buckley, Beth Orthon) und Jesper Bo Hansen (Anne Linnet, Ida Gaard) und den Produzenten Kim Hüttel (Sort Sol, The Sandmen) and Magnus Groth (Sort Sol, Kira and the Kindred Spirits) zusammen. Aus dieser Arbeit entstanden vier EPs, zwei Alben und diverse Touren in Skandinavien.
Im Jahre 2004 gründete er dann mit Mads Beldring und Jakob Falgren die Band DreamJockey, die auch außerhalb von Dänemark Erfolge verbuchen konnte.
Seit 2004 spielt und tourt Kristian Harting solo. Seine Konzertreisen haben ihn durch ganz Europa und die USA geführt. Außerdem schreibt er Filmmusik und Soundtracks für Kunstinstallationen.
Auf Exile On Mainstream veröffentlichte er bisher zwei Alben: 2015 "Summer Of Crush" und 2014 "Float". Beide Alben spielte er vollständig im Alleingang ein und produzierte selbst. Das nun vorliegende dritte Album "The Fumes" wurde von Kristian und Lars Lundholm (u.a. On Trial, Oresund Space Collective, Hanne Boel,  Papir) in den Black Tornado Studios in Kopenhagen produziert und von Nikolaj Vinten (u.a. Coldplay) gemastert. Als Gäste sind zu hören: am Bass Jakob Falgren (Trentemøller), an den Keyboards Jesper Bo Hansen (Hammond bei u.a. Glenn Hughes), Mads Beldring Hansen an den Drums und die Singer/Songwriterin Nana Schwartzlose als Backing Vocalist.
Den Inhalt des Albums beschreibt Kristian in seinen eigenen Worten so:
"Ich habe versucht, ein einfaches, düsteres, melancholisches aber auch schönes Indie Pop/ Rock Album zu machen mit leicht zugänglichen Songs, die sehr fokussiert sein sollen. Die 'Rubber Soul' – Ära der Beatles diente als Vorbild.  Im Vergleich zu den Vorgänger-Alben war es mir wichtig, die kinematographischen Sounds in den Hintergrund zu stellen und Gesang und Lyrics stärker zu betonen. Ich habe verschiedene Musiker zu den Aufnahmesessions eingeladen. So konnte fast das gesamte Album live eingespielt werden und wurde nicht zusammen gesetzt wie die beiden Vorgänger.
Die Songs selbst sind in einer Zeit entstanden, als ich sehr viel auf Tour war. Ich bin meist allein unterwegs, wenn ich nicht zuhause nervende 9-to5-Jobs machen muss um meine Rechnungen zu bezahlen. Die Songs reflektieren also die Dichotomie von Einsamkeit und Konzerten vor Publikum 'on the road'. Hinzu kommt die Desillusionierung in der Musikindustrie und im Arbeitsmarkt in modernen kapitalistischen Gesellschaften. Diese Songs zu schreiben war Ausdruck eines permanenten Kampfes gegen das Gefühl ein Außenseiter zu sein, nicht willkommen in der Welt und von der Gesellschaft entmenschlicht, benutzt und ausgestoßen zu sein.
The Fumes beschreiben die kurzen Schauer des Glücks, die uns helfen, den Tag zu überstehen im konsumorientierten Zirkus aus Geld, Status, Getriebenheit und Befriedigung. Der Begriff beschreibt für mich schnelle, nicht nachhaltige Shots aus Endorphin, die überdecken, wie dieser Zirkus die Menschlichkeit verschlingt und uns immer weiter voneinander isoliert, obwohl uns das Gegenteil vorgegaukelt wird. Es ist das Gefühl, dass wir in ein Desaster steuern und alles was wir dagegen tun können, ist uns gegenseitig auszunutzen und unsere Bedürfnisse nach Zwischenmenschlichkeit zu ignorieren während wir die Abfahrt genießen. Ich fühle mich in dieser Situation nicht wohl und suche nach einem Ausweg. Die Songs sind meine Verarbeitung dieser Gefühle, sie sind ihr Ausdruck. Die Platte ist für mich ein sehr wütendes Statement, wobei ich unsicher bin, ob sie tatsächlich so wahrgenommen werden wird."
Kristian Harting
English:
Kristian started as a kid playing in thrash metal bands a.o. Avoid, featured on the 1992-sampler Fuck you we're from Denmark (Progress Records). Soon he got into songwriting and alternative noisy pop and formed bands Dr. Berg, Solskaer and Tomato, working with musicians such as Jacob Krogholt (Rising, Bjoerst, Withering Surface), Mick Grondahl (Jeff Buckley, Beth Orthon) and Jesper Bo Hansen (Anne Linnet, Ida Gaard) and producers Kim Hüttel (Sort Sol, The Sandmen) and Magnus Groth (Sort Sol, Kira and the Kindred Spirits) resulting in four EP's, two nearly finished albums and touring around Denmark.
In 2004 he formed DreamJockey with Mads Beldring and Jakob Falgren and released two albums.
Since 2004 Kristian has been playing solo-concerts, bringing him to the USA, England and Germany, been playing bass in bands Siku and The Yes Wave and composed for film and installation art.
On Exile On Mainstream Kristian released two albums so far: 2015 "Summer Of Crush" and 2014 "Float". Both records got entirely written, recorded and produced by himself. This new record "The Fumes" marks a somewhat departure from this approach. It got recorded and produced by Kristian and Lars Lundholm (On Trial, Oresund Space Collective, Hanne Boel,  Papir, among others) at Black Tornado Studios and Room 21 in Copenhagen. Mastering was done by Nikolaj Vinten (Coldplay, among others)
Guests on the album feature on bass Jakob Falgren (Trentemøller), on keys Jesper Bo Hansen (Glenn Hughes), Mads Beldring Hansen on drums and singer/songwriter Nana Schwartzlose as backing vocalist.
The content and approach behind "The Fumes" is described as follows by Kristian himself:
I set out to create a simple, dark, melancholic and beautiful Indie Pop/ Rock album with short 'straight to the juice' songs. I had this the Beatles Rubber Soul era ideal. Cut the fancy sound imagery and emphasize the songs, the vocals and lyrics. I brought in musicians for the recordings, and most of the songs are recorded live in the studio with drums and bass.
I wrote these songs in a period of touring a lot on my own, while working in various shitty day-to-day jobs when at home to pay the bills. Lyricwise the songs reflect my loneliness on the road and disillusion with the music industry and the modern labour market. Writing these songs I was constantly fighting the feeling of being the outsider and not really welcome in the world. A feeling of being dehumanized by society, chewed and spat out. 
The fumes are the easy thrills that help us make it through the day in the consumeristic circus of money and status, power and pleasure. It's the short term happiness by quick shots of endorphines that blur how the circus is devouring humans and nature and isolate us from each other while pretending the opposite. It's the feeling of knowing we are heading for desaster and all we can do is to abuse and ignore ourselves to enjoy the ride. I don't do well in this circus, and I have a very hard time seeing a way out of it. It was a lot on my mind writing these songs and the album resonates these thoughts. For me it's a very angry record, but I'm not sure everybody will hear it as such."
Kristian Harting
PRESS:
ausgewählte Pressezitate (Deutsch):
ROLLING STONE 02/2014:
"Beklemmendes, experimentierwütiges Album des dänischen Singer/Songwriters, der zu krudem Folk, Trip-Hop-Loops und entfremdeten Blues-Riffs schmerzliche Einblicke in seine dunkle Seelenwelt gewährt."
VISIONS 02/14 – 9/12 Punkte:
"Der Däne Kristian Harting beweist, wieviel Facettenreichtum, Tiefe und ätherische Abstraktion mit einigen wenigen Geräten möglich ist. Auf das nackte Songwriting reduziert erkennt man Parallelen zu Folk-Meistern wie Kristofer Aström oder Christian Kjellvander; was Harting daraus macht, steht absolut für sich."
WESTZEIT 02/2014 – 5/5 Punkte:
"Mit dieser maßgeschneiderten Rettung gelingt dem Dänen ein in völliger Eigenregie entstandenes Werk, welches uns zeigt, was wirklich emotionale Musik im Kern ausmacht: Wahrhaftigkeit, die etwas über den Künstler erzählt und dabei unsere eigenen Geschichten wieder aufleben lässt. Dazu braucht es in der Umsetzung dann nicht mehr als eine Gitarre, Effektgeräte, Loops und ein paar kleine elektronische Spielereien. Schmutzig und schön ist er geworden, Hartings Hafen, den er inmitten seines 'folky trip hop blues metal' Universums erschaffen hat."
MUSIKANSICH.DE – 18/20 Punkte;
"Viel mehr als seine Gitarre und die Stimme braucht er nicht, um auszudrücken, was ihm auf der Seele brennt. Doch der zweite Blick offenbart noch mehr. Denn er jagt die sechs Saiten durch diverse Effektgeräte, erzeugt damit Loops und angenehme atmosphärische Klangteppiche, welche die Songs groß klingen lassen. Ergebnis ist trippige Folk-Musik, die man so auch nicht allzu oft zu hören bekommt. Dazu verarbeitet der Songwriter Einflüsse aus den Bereichen Mali-Blues und Sufi-Musik sowie westlichen Lo-Fi-Künstlern. Am Ende ist es schön, dass man dieser Genregrenzen aufbrechenden und atmosphärisch dichten Klangreise beiwohnen durfte!"
MUSIKREVIEWS.DE – 11/15 Punkte:
"…am Ende klingt "Float" verdammt gut, mit viel akustischer Gitarre und elektronischen, verfremdenden Experimentierklängen, auch wenn Harting bereits nach 33 Minuten die Luft ausgeht. Besonders stark aber sind die kompositorischen Einfälle, die sich im Umfeld der NITS (Sole Dancer), GLEN HANSARD (Float) und THOM YORKE solo ("Walk With Thor" oder "Queen Of The Highway") bewegen. Auch der Geist eines JEFF BUCKLEYs durch"Floatet" das ganze Album, welches vom ersten bis zum letzten Song ein melancholischer Grundton durchzieht. Hartings Gesang klingt zart und zerbrechlich und erinnert in gewissen Momenten entfernt an CHRIS DE BURGH."
FOTOS
Hi-Res versions: click + righ click + 'save as…'
ARTIST DISCOGRAPHY