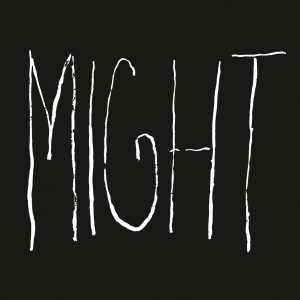 CURRENT RELEASE
Title: Might

CatNo.: EOM96V (LP+CD bundle)

Release Date: 17 July 2020
Formats: LP (w/CD bundled), digital

Playing Time: 35:40

Barcode: 811521019965
ALBUM DOWNLOAD:
Download the record in mp3 format for promotional use only HERE
If you don't have a download code, request it HERE.
ALBUM STREAM:
Introduce Yourself

MIGHT

1:41

Pollution Of Mind

MIGHT

3:17

Vampire

MIGHT

4:20

Possession

MIGHT

5:05

Warlight

MIGHT

6:19

Weirdo Waltz

MIGHT

3:30

Flight Of Fancy

MIGHT

4:38

Mrs. Poise

MIGHT

3:01

Zero

MIGHT

3:27
ARTIST BIO/INFO
Deutsch:
Menschenleere Strassen, Kontaktverbot, Atemschutz: in diesem Zustand, den wir vermutlich alle bis vor kurzem für vollkommen absurd gehalten haben, zeigt sich auch in unserem Alltag eine Düsternis, die von einer Vision zu einer neuen Normalität wird. Für eine Band, deren Gründung in diese Zeit fällt, hat das natürlich nachhaltigen Einfluss auf die musikalische Äußerung. Zwei Tage vor den geplanten Aufnahmen zum Debüt-Album von MIGHT stand die Welt plötzlich still. Das Ehepaar Ana Muhi (Bass, Gesang) und Sven Missullis (Gitarre, Gesang, Schlagzeug) zieht sich im März 2020 ins bandeigene Studio zurück und beginnt mit den Aufnahmen. Die rohe Energie und Zartheit der Songs entwickeln einen eigenen Sog, der vom Zustand der Außenwelt tief beeinflusst wird. Unter Bedingungen und Möglichkeiten der extremen Konzentration nehmen die Tracks Form an. Im Verlauf des Albums lassen sich Fragen und Umgangsweisen mit der Situation ablesen: die Wechselwirkung aus Geborgenheit und Unbehagen, aus Wut, Verzweiflung und Hoffnung sind der rote Faden, der sich durch die Songs zieht. Während die Welt über 'Flatten The Curve' diskutiert, formulieren MIGHT ihre eigene Kurve aus emotionalen Interferenzen und Verstärkungen und erschaffen ein Album, dessen ätherische Intensität wie ein Soundtrack zum apokalyptischen Zustand der Welt wirkt: Depression und Ausweg finden musikalischen Ausgleich wie Licht und Schatten. Zwischen instrumentaler Raserei und sanft-zerbrechlichen Akustik-Parts findet ein Austausch statt, der musikalisch verschiedene Genres zusammenbringt: Black Metal, Sludge, Doom, PostRock, Shoegaze. Das Ganze passiert organisch, ohne jede Effekthascherei: Laut und Leise in perfekter Ergänzung, die Kraft der Liebe als Antwort auf Fragen nach Tod und Leben fragmentarisch in den Lyrics verarbeitet.
MIGHT sind: Ana Muhi (Bass, Gesang) und Sven Missullis (Gitarre, Gesang, Schlagzeug) und kommen aus Hannover. MIGHT sind bereit für Shows, sobald die Möglichkeit wieder besteht. Bei den Konzerten erwartet die Zuschauer eine neue und ungewöhnliche Herangehensweise: visuelle Projektionen untermalen den künstlerischen Ausdruck nicht nur, sondern werden Teil der Band. So wird beispielsweise Sven Missullis als virtueller Drummer mit sich selbst als Gitarrist auf der Bühne stehen. Mehr verraten wir nicht.
Das Album erscheint auf LP mit beigelegter CD und digital als Download und in allen üblichen Streamingportalen.
Für Fans von: Chelsea Wolfe, Emma Ruth Rundle, Jarboe, Dolch, Treedeon, Neurosis, Ides Of Gemini, Black Mare

English:
Empty streets, contact restrictions, breathing masks – a situation, we all would have considered completely absurd just a few months ago adds a new kind of dismalness to our daily life, which turns a sombre vision into some new normality. For a band whose inauguration falls into these times it's a self-evidently influence on their artistic creation. Two days before the planned start of recording the world comes to a grinding halt with lockdowns implemented all over Europe. The married couple Ana Muhi (vocals, bass) and Sven Missullis (guitars, vocals, drums) moves into their own studio in March 2020 to record the self-titled debut album. The raw energy, subtleness and fragility of the written songs gets pulled into a wake deeply influenced by the state of the outside world. Under circumstances and opportunities of a new level of concentration the tracks begin to form. During the recording and now, throughout the album one can read out different questions and approaches relating to the state of the world as of today: a dichotomy between emotional safety and discomfort, between rage, despair and esperance becomes the common theme. While the world discusses topics such as 'Flatten The Curve', MIGHT create their own sine wave built from emotional interferences and amplification between music and personal experience, resulting in an album full of ethereal intensity. The record comes across like a soundtrack for the emotional movie we all seem to be acting in: depression, way outs, light and darkness, instrumental furor and acoustic reflection create a debate taking in arguments from several musical genres such as Black Metal, Doom and Sludge, PostRock and Shoegaze. This all happens organic and natural, taking the focus away from pure effects towards an emotional efficiency: the power of love as an answer to questions relating to death and live as fragments thrown into the lyrics.
MIGHT are: Ana Muhi (vocals, bass) and Sven Missullis (guitars, vocals, drums). The couple hails from Hannover, Germany.
MIGHT are ready for shows and will hit the road as soon as clubs open again. Expect an extraodinaire concept: visual projections will become part of the live shows much more than their usual purpose as an illustration. Sven will play as virtual drummer with his own guitar-playing self on the same stage. More secrets about the performance will be revealed at a later stage.
The album is released on vinyl with the CD bundled, as digital download and on all available streaming platforms.
Fans of Chelsea Wolfe, Emma Ruth Rundle, Jarboe, Dolch, Treedeon, Neurosis, Ides Of Gemini, Black Mare will like MIGHT.
LYRICS DOWNLOAD:
ARTIST PICTURE
Hi-Res versions: click + righ click + 'save as…'