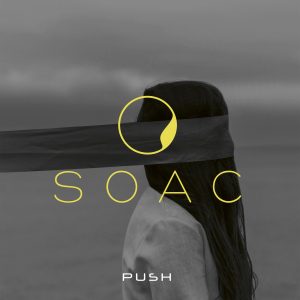 CURRENT RELEASE
Title: Push

CatNo.: EOM98V (LP+CD bundle)

Release Date: 27 August 2021

Formats: LP (w/CD bundled), digital

Playing Time: 34:54

Barcode: 811521019989
ALBUM DOWNLOAD:
Download the record in mp3 format for promotional use only HERE
If you don't have a download code, request it HERE.
ARTIST BIO/ INFO
DEUTSCH:
Nach 20 Jahren als reines Instrumental-Kollektiv verkünden Sons of Alpha Centauri ein neues Album mit Sänger Jonah Matranga, bekannt durch Bands wie Far, Gratitude und Onelinewdrawing. Ebenfalls neu an Bord ist Drummer Mitch Wheeler, vormals bei Will Haven, Ghostride und The Abominable Iron Sloth.
Push ist eine radikale Abkehr vom instrumentalen, psychedelisch-progressiven Sound, den man bisher von ihnen gewohnt war. Auf dem Album wendet sich die Band aus Kent, UK hin zu brachialen, vor Hooklines nur so strotzenden Post-Hardcore-Hymnen, die ihre Wurzeln tief im Alternative Sound der 90er Jahre haben. Auch wenn Push Erinnerungen an solche Vorreiter wie Quicksand, Only Living Witness, Into Another und natürlich Far wach werden lässt, verweigert es sich konsequent jedem Anachronismus und liefert ein unheimlich frisches und aufrüttelndes Amalgam aus Hardcore und Progressive Metal mit hypnotisch-pulsierenden Riffs und rau-melodischem Gesang, der das erste Lebenszeichen von Jonah Matranga nach dem Reunion-Album At Night We Live! von Far aus dem Jahre 2010 ist.
Für SOAC ist Push der Nachfolger zum 2017er Werk Continuum. Gründungsmitglied Nick Hannon erklärt die Hinwendung zum neuen Sound:
"SOAC hat schon immer eine gespaltene Persönlichkeit. 'Push' zeigt nun unsere dunkle Seite. Wir sind alle mit dem 90er Jahre Alternative Rock und Hardcore aufgewachsen und es wollten diese Seite unserer Vision hinzufügen. Da lag es natürlich nahe, direkt mit den richtigen Leuten, Mitch und Jonah, zu arbeiten, die genau diesen Sacramento Post Hardcore Sound entscheidend geprägt haben."
Sons of Alpha Centauri existieren bereits seit 2001. 2007 erschien ihr selbstbetiteltes, instrumentales Debüt-Album. Der Sound begeisterte Stoner Rock-Fans ebenso wie ProgRock-Hörer und mache SOAC über die Jahre zur ersten Adresse für diesen Sound, nicht nur in Großbritannien. Die Herangehensweise der Band, ihre eigene Vision immer wieder mit verschiedensten Kollaborationen zu kolorieren, führte zu verschiedenen Veröffentlichungen, die mittlerweile als eigenes Netzwerk funktionieren. Eine Freundschaft, die weit über musikalische Kollaboration hinausgeht, verbindet SOAC u.a. mit den US-Bands Karma to Burn und Yawning Man. So tourten SOAC mehrere Male mit Karma to Burn, erstmals 2009. Das gemeinsame Projekt  Yawning Sons mit Mitgliedern der Desert-Rocker Yawning Man führte zu mittlerweile zwei gefeierten Alben, an denen u.a. auch Scott Reeder (Kyuss) und Wendy Rae Fowler (Queens of the Stone Age) beteiligt waren.
2017 erschien mit Continuum das zweite Album von Sons Of Alpha Centauri , produziert von Aaron Harris (ISIS/Palms). 2019 folgte mit Buried Memories ein Remix-Album in Kollaboration mit Justin K. Broadrick (Godflesh/ Jesu)
Push wurde von Lance Jackman  (EightFourSeven) Sacramento aufgenommen,von Dan Lucas gemixt und von Nick Zampiello (Cave In, Converge, ISIS) gemastert.
Line Up auf Push:
Jonah Matranga – vocals
Marlon King – guitars
Nick Hannon – bass
Mitch Wheeler – drums
Stevie B – drums
Blake – effects
ENGLISH:
After twenty years as an instrumental act Sons of Alpha Centauri are proud to announce Jonah Matranga from the post hardcore legends Far and Gratitude has joined up with the band as vocalist for their upcoming third studio album entitled Push.
A radical departure from their instrumental sound this album is a powerhouse of searing post hardcore, alternative metal and progressive dreamy riff rock. The band are now joined by drumming powerhouse Mitch Wheeler known as having been the backbone of Will Haven since their cult classic record Carpe Diem and being the founding member of Ghostride and The Abominable Iron Sloth.
In turn Sons of Alpha Centauri for their third offering have merged with members of two legendary Sacremento hardcore bands namely Far and Will Haven
With an ideology rooted in the 90s hardcore scene the record has evolved a fresh take on alternative post hardcore and emotive metal. The hypnotic pulsing riffs and the soaring emotional power of Jonah's wrought and raw vocals provide his first heavy performance since the critically acclaimed Far reunion album At Night We Live!
SOAC follow on from Continuum exploring their heavier side and pursuing a truly avant grade blend of progressive ambient metal and post hardcore. Jonah uses his return to post hardcore to challenge some of the core topics with a reignited fire of passion and emotional persuasion.
Founding member and bass player Nick Hannon said 'SOAC has a split personality – this is most certainly our darker and heavier side – we grew up on 90s alternative rock and to harness our vision with the purveyors of the Sacramento post hardcore sound will make this a true landmark release and we have taken it to the extreme collaborating with Mitch and Jonah!' 
Sons of Alpha Centauri are the UK's original instrumental stalwarts. Formed in 2001 they released their atmospheric and progressive debut to acclaim in 2007 and since then proceeded to develop their instrumental approach having been accepted and adopted by instrumental luminaries Karma to Burn and Yawning Man. SOAC have released multiple split records, undertaken several collaborations and toured extensively with Karma to Burn since 2009 and have also formed Yawning Sons with members of Yawning Man. The collaboration heralded involvement from Scott Reeder (Kyuss), Wendy Rae Fowler (Queens of the Stone Age) releasing several albums to critical acclaim in 2009 and 2021 both widely referred to as cult classics.
SOAC returned in 2017 with their sophomore Continuum produced and engineered by Aaron Harris of ISIS/Palms and the sister release Buried Memories followed thereafter which was a remix collaboration album with Justin K. Broadrick of Godflesh / Jesu.
Push is a soundtrack that blends the instantly recognisable sonic landscape of SOAC with the wrought emotional tone of Far and the epic backbone of Will Haven. This milestone album was recorded by Lance Jackman of EightFourSeven in Sacramento and engineered and mixed by Dan Lucas. This album has been mastered by the legendary Nick Zampiello (Cave In, Converge, ISIS) and presented impeccably by Exile on Mainstream Records.
Line Up for Push:
Jonah Matranga – vocals
Marlon King – guitars
Nick Hannon – bass
Mitch Wheeler – drums
Stevie B – drums
Blake – effects
DISCOGRAPHY
Sons of Alpha Centauri – Sons of Alpha Centauri (2007) – Studio album
Sons of Alpha Centauri / Treasure Cat (Karma to Burn) – Last Day of Summer (2009)
Yawning Sons (Yawning Man & Sons of Alpha Centauri) – Ceremony to the Sunset (2009)
Sons of Alpha Centauri / Karma to Burn – 3 x 7" splits / box set (2012 – 2017)
Sons of Alpha Centauri – Continuum – Studio album (2017)
Sons of Alpha Centauri – Buried Memories (2019) (Collaboration with Justin Broadrick)
Yawning Sons – Sky Island (2021)
ARTIST PICTURES