CURRENT RELEASE
Title: Extract.Transform.Debase.

CatNo.: EOM99V (LP+CD bundle)

Release Date: 23 April 2021
Formats: LP (w/CD bundled), digital

Playing Time: 45:00

Barcode: 811521019996

ALBUM DOWNLOAD:
Download the record in mp3 format for promotional use only HERE
If you don't have a download code, request it HERE.
LYRICS

click for download: EOM99V_Lyrics
ARTIST BIO

DEUTSCH
THE ANTIKAROSHI ist der Name des letzten Songs deiner ex-band, der trotzdem in neuem Gewand geschrieben, aufgenommen und gespielt werden muss. Warum? Weil das Leben so ist. Weil eben dieses Leben sich einen Weg sucht und manchmal einen Song braucht, ein Musik gewordenes Stück Ausdruck. Zum Selbstzweck? Auch das.
THE ANTIKAROSHI ist eine Band. Eine Band, die auch einfach so entstehen musste. Vor nunmehr 15 Jahren. Nenn es Schicksal oder Anspruch. Aber nenn es nicht Konvention. Denn ebensolcher verweigert sich der Dreier aus Potsdam und Berlin konsequent. Im wahrsten Sinne des Wortes schwer zu fassen, was da passiert. Und dabei so dicht an genau dem Leben, das ihre Songs füllt. Stilmix überlassen sie den anderen. Hier wird nicht gemixt, sondern organisch zerfurcht, gepflügt, erforscht und beatmet, was einfach raus muss. Schubladen wie Jazz, Electronica, Noise oder Postrock sind ihnen zu klein. Ihre Wurzeln im Punk und Hardcore der DC-Schule haben sie nicht vergessen und denken nicht daran, sie zu verleugnen.
THE ANTIKAROSHI ist Anspruch, Ansporn und Konzept in einem. Die Aktivitäten der Mitglieder gehen über das bloße Musikmachen weit hinaus. Als Kollektiv veranstalten sie Konzerte und Events und sind damit ein integraler Bestandteil der Potsdamer Subkultur.
THE ANTIKAROSHI sind: Christoph Hennig – vocals, guitar, electronic // Dirk Hoffmann – vocals, bass, electronics // Andre Pautz – drums
ENGLISH
"THE ANTIKAROSHI" is the name of an unwanted song written, played and recorded out of a pleading necessity to do so. Why? Because sometimes life or experiences can only be expressed through song, music, lyrics. It's sort of …autotelic… in a self-sufficient, internally driven form.
THE ANTIKAROSHI was established in this same self-motivated manner free of external influence. Call it destiny. Call it aspiration. But don't call it convention. The three-piece hailing from Potsdam, Germany is the antithesis to convention. You cannot constrain or pigeon-hole what is happening here. On the other hand, they are part of and inseparable from the environment that has created and influenced their music. Style-mixture is left over for others to define. What happens in their music is an organic amalgamation – they furrow, trench, delve and breathe through whatever calls to express their music. Classifications such as Jazz, Electronica, Noise or Post Rock are too constraining.
The roots of THE ANTIKAROSHI are heavily influenced mainly by D.C. Punk and Hardcore, while shooting forth rays into many genres by acting completely independent, musically and politically. The result is music both surprising and overwhelming.
THE ANTIKAROSHI consist of: Christoph Hennig – vocals, guitar, electronic // Dirk Hoffman – vocals, bass, electronics // Andre Pautz – drums
INFO

DEUTSCH
EXTRACT. TRANSFORM.  DEBASE.
..ist das fünfte Album der Band und es benötigte 5 Jahre um das Licht der Welt zu erblicken. Thematisch beschreibt es den Kreislauf unserer derzeitigen Gesellschaft, der vor allem auf Geschwindigkeit setzt und somit Oberflächlichkeit generiert. Eine Metapher, in der letztendlich nur noch Überschriften zählen, die man im Vorbeirauschen wahrnimmt.
Dabei liefern The Antikaroshi ein Album ab, das vor allem Dinge in Frage stellt,  das sich mit der eigenen Rolle spielerisch ebenso auseinandersetzt wie mit konkreten Dissonanzen unserer Gesellschaft wie Autoritätshörigkeit und Machismo. Musikalische Konfliktverarbeitung. War ihr Sound in den Anfangstagen noch sehr in der Nähe von Bands wie Fugazi, Faraquet oder Shudder To Think – den Protagonisten des DC Undergrounds zu verorten- so hat sich die Band im Laufe der Jahre ihr ganz eigenes Musikuniversum geschaffen!
Extract. Transform. Debase. wurde im Herbst 2020 eingespielt und von Nikolaus@Chaos-Audio gemixt und produziert.
Instrumente: Dirk, Andrè und Christoph.
Gäste: Marco (voc, piano) und Mette Wätzel (Cello) auf "Set Your Reminder", Tonia Reeh (voc) auf "Spitting Image"
Artwork: Matt Irwin (A Whisper In The Noise)
ENGLISH
Extract.Transform.Debase was recorded, mixed and mastered in autumn 2020 at Blockhausstudio and ChaosAudioProd. Basement by Nikolaus Schwab.
All instruments played by Dirk, Andrè and Christoph.
Guests: Marco (voc, piano) and Mette Wätzel (Cello) on Set your reminder, Tonia Reeh (voc) on Spitting Image
Artwork: Matt Irwin (A Whisper In The Noise)
Extract. The goods. The gold. The core. The message. The good off the bad. The key agenda of your opposition for a day.
Transform. Into a value. A brand. A must-have (known). A share. A like. A unique blabla. A majority to be formed. A feeling of being right.
Debase. A toxic waste. A problem that has to be solved by others. A far away point/land. A decade in coming future. A species now disappeared. A fake news.
A cycle in incomprehensible speed. Cause speed is a level that keeps visible up to a point  in terms of headlines.
We need to get off.
After 4 years it's finally time for a new record.
In between: a relocation, kids..
But anything kept together by big friendship and love/passion for sound, a (way too often) distaste of the political situation, a feeling of being safe and not being the only one (thanks to our friends) despite borders or people that try to separate us.
Give space where it's needed.
ARTIST PICTURES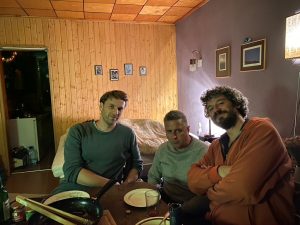 DISCOGRAPHY