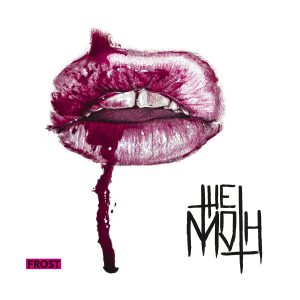 CURRENT RELEASE
Title: Frost
CatNo.: EOM107V (LP+CD bundle)
Release Date: 22 September 2023
Formats: LP+CD, digital
Playing Time:  44:24
Barcode: 811521011075
ALBUM DOWNLOAD:
request per e-mail HERE.
ALBUM STREAM:
Me, Myself & Enemy

The Moth

2:49

Birmingham

The Moth

3:37

Battlefield

The Moth

2:53

Bruised

The Moth

2:44

Cathedral

The Moth

4:20

Hundreds

The Moth

4:41

Frost

The Moth

6:53

In The City

The Moth

4:05

Dust

The Moth

5:37

Silent

The Moth

6:41
RELEASE INFO
DEUTSCH

Seit ihrem gefeierten Debüt They Fall von 2013 liefert das Hamburger Heavy-Trio THE MOTH regelmäßig Tracks mit einer Eingängigkeit ab, die im Genre Sludge überraschen. Zur letzten LP Hysteria von 2017 war in einer Review treffend zu lesen: "Popmusik, gespielt mit einem Bulldozer". Mit 'Kim Wilde meets Bolt Thrower' beschreibt es die Band selbst. Diesen Ansatz treiben THE MOTH nun mit ihrem neuen Album Frost auf die Spitze. Eingängige Hooklines verfangen sich wie ein ausgeworfener Fleischerhaken in Herz und Hirn der Zuhörer und erklären, warum die Band ihren Stil Doom-Sludge-Pop nennt. Das trifft es. Unter der Schale roher Wucht, die die Songs zunächst präsentieren, zeigen THE MOTH lyrisch allerdings eine neue Offenheit und Verletztlichkeit. Das Er- und Durchleben von Schicksalsschlägen zieht sich als wiederkehrendes Thema durch die Platte – alles unter einer rauen Schale aus markantem und bewusst rohem Klang, den Cécile (Gesang/Bass), Freden (Gitarre/Gesang) und Curry (Drums) mit hohem Wiedererkennungswert darbieten. Dröges Riffgebrumme und mantrisches Gestoner sind nicht ihr Ding. Wer THE MOTH live erlebt, findet sich automatisch mit bissigem Kopfnicken, Bierdurst und in Hüfthöhe geballter Faust vor der Bühne wieder.

Frost wurde in gerade mal 24 Stunden live eingespielt, aufgenommen und gemischt von Jose Lorenzo, Bombrec Recording. Gemastert von Timo Höcke, Die Wellenschmiede. Nach drei Alben beim fantastischen Label This Charming Man, geben THE MOTH mit Frost ihr Labeldebüt auf Exile On Mainstream – VÖ ist am 22. September 2023.

HISTORIE:
2012 gegründet, war das Feedback zum ersten Album They Fall bereits begeistert. THE MOTH präsentierten sich von Anfang an als internationale Band, die rund um den Erdball, von Tokio bis Vancouver, Fans finden konnte. Zwischen Festivalauftritten u.a. auf den Desertfests in London und Berlin über das Stoned from the Underground, das Svart Festival Oslo, dem Doom Over Vienna und dem Riff Mass Brighton erschienen 2015 mit And Then Rise und 2017 Hysteria zwei weitere Alben, die auf Europa-und UK-Touren und Shows mit u.a. TREEDEON, CONAN, EYEHATEGOD, CROWBAR, TORCHE und RED FANG begeisterte Fans zurückließen.
Fünf Jahre und eine Pandemie nach dem Vorgänger erscheint nun Frost auf Exile On Mainstream als schwarzes Vinyl mit beigelegter CD sowie digital.

2023 FROST (LP, CD, MP3), Exile on Mainstream Records
2017 HYSTERIA (LP, CD, MP3), This Charming Man Records
2015 AND THEN RISE (LP, CD, MP3), This Charming Man Records
2013 THEY FALL (LP, CD, MP3), This Charming Man Records
ENGLISH
With three albums under their belt, THE MOTH are no newbies and have honed their no-nonsense approach to SludgeMetalDoom on numerous tours and gigs. Their songs are virtually void of frills, instead opting to turn out hammer heavy drums and riff ready rock 'n' roll – as brutal as it is bewitching. Since their acclaimed debut They Fall in 2013, the Hamburg heavy trio THE MOTH have regularly delivered tracks with a catchiness that is surprising for the genre. Kim Wilde meets Bolt Thrower, they call it themselves, or like a review for the last album Hysteria (2017) did put it: "pop music played with a bulldozer". How appropriate! THE MOTH are now taking this approach to new heights with their upcoming album. Frost is set to be released on Exile On Mainstream on 22 September 2023. Catchy hooklines get stuck in the listener's heart and mind like a dislodged meat hook, explaining why the band calls their style doom-sludge pop. That's it. Simple as that, yet nailing the sound. Lyrically, however, THE MOTH show a new openness and vulnerability under the shell of raw power that the songs initially present. Experiencing and living through strokes of fate runs through the record as a recurring theme – all under a rough shell of distinctive and deliberately raw sound. Cécile (vocals/bass), Freden (guitar/vocals) and Curry (drums) perform the dichotomy with a high recognition value. Boring riff hum and mantric stoner-esk repetition are not their thing. Anyone who experiences THE MOTH live will automatically find themselves in front of the stage with a biting head nod, a thirst for beer and a fist clenched at hip height.
Frost was recorded live in only 24 hours, recorded and mixed by Jose Lorenzo, at Bombrec Recording. Mastered by Timo Höcke, at Die Wellenschmiede. After three albums on the fantastic This Charming Man label, THE MOTH now present their label debut on Exile On Mainstream with Frost.

HISTORY:
Founded in 2012, the feedback on the first album They Fall was already quite enthusiastic. Right from the start, THE MOTH presented themselves as an international band that drew fans all over the world, from Tokyo to Vancouver. Between festival appearances at the Desertfests in London and Berlin, Stoned from the Underground, the Svart Festival Oslo, the Doom Over Vienna and the Riff Mass Brighton, two more albums were released in 2015 with And Then Rise and 2017 Hysteria. On accompanying tours and shows throught Europe and the UK with, among others, TREEDEON, CONAN, EYEHATEGOD, CROWBAR, TORCHE and RED FANG THE MOTH left enthusiastic fans behind.
Five years and one pandemic after its predecessor, Frost is set to be releasd on Exile On Mainstream on black vinyl with a bundled CD, containing the full album and digitally.
2023 'FROST' (LP, CD, MP3), Exile on Mainstream Records
2017 'HYSTERIA' (LP, CD, MP3), This Charming Man Records
2015 'AND THEN RISE' (LP, CD, MP3), This Charming Man Records
2013 'THEY FALL' (LP, CD, MP3), This Charming Man Records
LYRICS
download lyrics here: CLICK
ARTIST PICTURES