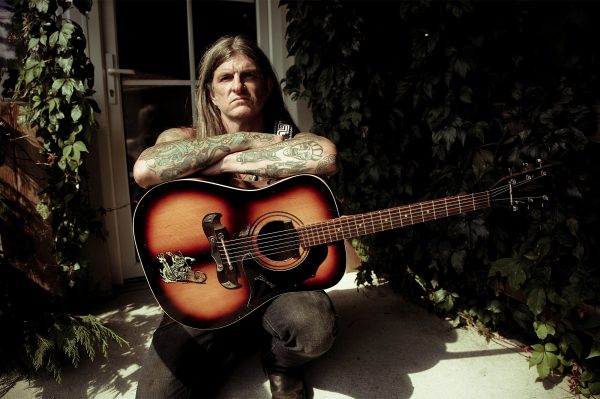 Scott "Wino" Weinrich has been putting his soul on the line for nearly four decades with his unique brand of Sabbath-inspired Doom / Stoner Rock. He formed the hugely influential The Obsessed whilst still in high school and went on to play in the legendary Saint Vitus. The increasingly popular genre now known as "Stoner" Rock (examples : Fu Manchu, Kyuss, Nebula, Orange Goblin, Monster Magnet, Cathedral) and labels such as Man's Ruin and Rise Above simply would not exist were it not for the groundwork laid down by Wino.
After years in the wilderness, Wino came back with Spirit Caravan in 1996 first playing under the name Shine –  a stronger, tighter band than ever before, and a clutch of songs that once again prove there is no other songwriter like him in the metal/rock world. It also confirms why Wino is revered and cited as a major influence by such artists as Henry Rollins, Fugazi, The Melvins, Pantera, White Zombie, Metallica, L7, Corrosion Of Conformity, Cathedral, Life Of Agony, Prong, Foo Fighters…
In 2002 Wino disbanded Spirit Caravan after the release of their final single "So Mortal Be/ Undone Mind" due to his new role in society as a father of the beautiful earthling Niklas. But imagine Wino without riffing all the new Stoner and Doom bands to the ground! No world without him! In late 2002 he started over again with the the groundbreaking news of joining Victor Griffin's (Ex-Pentagram) new outfit Place Of Skulls and a new outlet for his personal understandings of musical/political combination THE HIDDEN HAND.
The Hidden Hand released three albums, two of them you can find among the stock being held on offer by this fine label whose website you are just visiting. Being done for a while with the whole band thing and what it all involves he released his first solo album "Punctuated Equilibrium"  in early 2009 with the help of long time friend JP Gaster on drums (CLUTCH) and Jon Blank who sadly passed away after the threepiece came home from a successful European tour in May 2009.
In the meantime became reality what has been spread as rumour for a while and made all his fans breathless: Shrinebuilder. Something that can easily be described as a supergroup of underground heavy music consisting of members of Neurosis, Om, Melvins and your man Wino himself. As if this wouldn't have been enough the reunion of the mighty SAINT VITUS took shape at the Roadburn Festival 2009 and has been followed until now with a number of live performances channeling into a full operating band again, which our man left again in 2014 to reform THE OBSESSED.
Alongside his many efforts
What your heroes say about WINO:
HENRY ROLLINS: "If you're looking for a band that really represents America's youth culture..it's not The Go-Gos, it's people like WINO who have nothing to lose, and who have no need to lie. The guy's got no bullshit. He just says it — if you don't like it, there's the door. You can either walk…or if he gets up, you can run. The guy's talent is undeniable. His charisma is total. He's a great songwriter. He probably doesn't even know how good is he on guitar. Wino plays the kind of guitar…like drinking Clorox (bleach) all night long guitar. Like I smoke angel dust and wound people guitar. The guy's guitar playing sounds like TROUBLE — not the band, the situation."
IAN MACKAYE / FUGAZI: "When you think of him, he's maybe seven or eight feet tall. But he's actually not that tall. He just carries that much weight. He's a legend. When Joe and I first got Fugazi together, it was just 'Let's see if we can write a bunch of songs like THE OBSESSED."
PEPPER KEENAN / COC: "WINO's music has always been so serious — the fucked up thing about it, that's the only thing he knows. He's gonna do that whether he makes a million dollars or ten dollars. To me that's what always made WINO the quintessential lifer. It's just what he does. His music is just so goddamned heavy. He means it."
LEE DORRIAN / CATHEDRAL: "It's an almost magical kind of music — so much honesty and natural heaviness that comes out of that guy. It's kind of amazing."
WINO has released the following records on Exile On Mainstream. Click for PURCHASE:
If click doesn't work the record is nnot available anymore