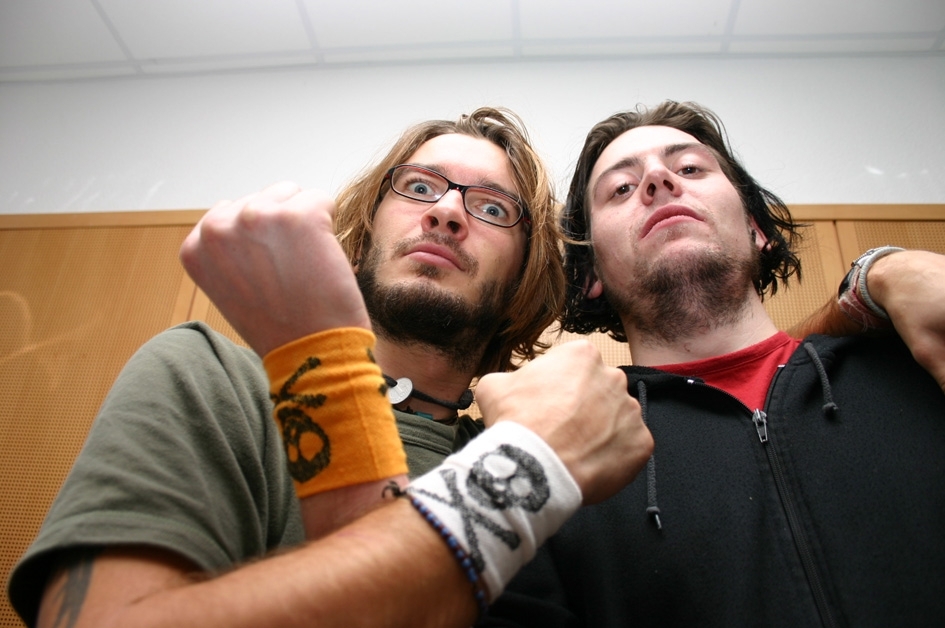 Born and raised in Neustadt / Orla, Thuringia, Jari´s first musical influences were within the punk and hardcore scene, inspired by such bands as Gorilla Biscuits, Cro-Mags and Dead Kennedys. Growing up in a musical and social wasteland, he soon found a few like-minded comrades and, to escape the daily bleakness of reality, began creating music with these other ´social rejects´. In 1997, Jari joined his first band NAIL – as their guitar player and not the great shell-battering-psycho he was yet to become. NAIL performed countless gigs in every corner of Germany, but Jari soon decided to leave the band to further his education in the student town of Jena. Not long after settling into his new home, Jari got the music itch once more and formed good-time stoner rock band RODEO QUEEN, now taking on the role as drummer. Jari had found his calling, performing with so much raw energy and passion that you´d think the modern drum kit had just been invented.
In the Summer of 2003, Jari first met his good friend and current band mate André; in Amsterdam. As they were both involved in other full-time projects, they decided to form the band now known as DŸSE. In 2005, as this ´side project´ began to develop into the monster it was yet to become, Jari decided to call it a day for Rodeo Queen and put all his energy into learning new percussion techniques and exploring music more creatively within DŸSE.
André was born in Karl-Marx-Stadt, a city known today again as Chemnitz. A Saxon town heavily dependant on its industrial work force to support the economy, Chemnitz had lost all passion for music and become extremely bleak for young people with an interest in music or arts. However, this did not deter young André, who went on to study the accordion (yes, the accordion) at the Academy of Music where he learned skills in traditional music. Of his ten years at the Academy, four were spent studying classical music and playing in the orchestra gaining a great deal of knowledge in musical structure and theory. This was all great experience and education, but André wasn´t satisfied with playing traditional music on such limited instruments. In his late teens, he was introduced to the electric guitar and found the sound he was searching for: loud, heavy, distorted chords. Armed with his new weapon of mass construction, he formed his first band DEMENTED with his friend and later-to-become-bass player of VOLT, Nico Lindner.
Not long after it was born, Demented was put to rest as André began experimenting in more electronic projects, but it soon became clear that this was not his main passion and so he formed another rock band. Together again with Nico, and joined by drummer Boris, the three became the unpronounceable ROERHEDDS, before changing their name to the English-friendly VOLT. André began to take more interest in his role on vocals, experimenting with different tones and sound, while his song writing was still heavily influenced by the frustrations of growing up in a musically barren Chemnitz. Throughout 2002-2005, VOLT and Jari´s band RODEO QUEEN played many tours together throughout Germany creating strong friendships between both bands and cementing the foundations for DŸSE.
Formed in the Spring of 2003 and named after the Dysecatmotel in Amsterdam where they first met, DŸSE (pronounced Doo-zer) began as a fun, drunken side project for Jari and André to try new things with music they enjoyed, writing songs with no limitations or expectations from anyone.
DŸSE have released two albums on Exile On Mainstream – click here for PURCHASE: